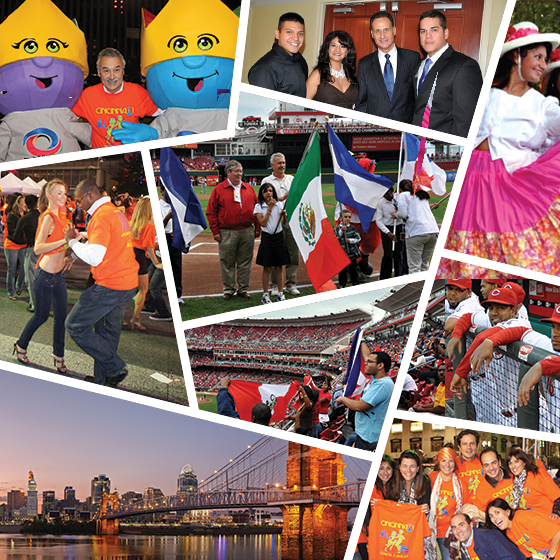 About Us
Greater Cincinnati's 5th Annual Hispanic Heritage Month celebration occurs between September 15 and October 15, 2013. Hispanics Avanzando Hispanics (HAH) and a team of local Hispanic leaders and organizations, created the annual program in 2008 to increase community awareness and acknowledge the contributions of Hispanics in our community. It is a mix of celebratory events and educational both by Hispanic as well as community wide organizations. We invite you to join us. The different tabs give you all the information you need to participate and enjoy the many events.
Hispanic Heritage Month History
In September 1968, Congress authorized President Lyndon B. Johnson to proclaim National Hispanic Heritage Week. The observance was expanded in 1988 to a month-long celebration (Sept. 15 – Oct. 15). America celebrates the culture and traditions of the U.S. residents who trace their roots to Spain, Mexico and the Spanish-speaking nations of the Central America, South America and the Caribbean. Sept. 15 was chosen as the starting point for the celebration because it is the anniversary of independence of five Latin American countries, Costa Rica, El Salvador, Guatemala, Honduras and Nicaragua. In addition, Mexico and Chile celebrate their independence days on Sept. 16 and Sept. 18 respectively. It ends on October 15, just after observance of the discovery of America by Christopher Columbus.
In Cincinnati, this is our sixth year observing and celebrating Hispanic Heritage Month. Events have grown in number and variety over this time (see photos of previous years in Gallery tab). On September 7, the Reds celebrate the contributions of Hispanics with Hispanic Heritage Night. On September 13 is the official kickoff to Hispanic Heritage Month on Fountain Square. This will be a very special night as we will attempt to break the Guinness World Record for most Merengue Dancing couples. As in past years, we also have events of a serious, educational nature such as the City of Immigrants play and a fundraiser for Hispanic scholarships.  We encourage one and all to attend and be a part of these and the many other Hispanic Heritage Month activities.
The local media, both in English and Spanish. also help celebrate this month by covering the events as well as by airing public service announcements encouraging tristaters to "Get to Know Your Hispanic Neighbors". The English campaign was produced by TriHealth. Gracias to all of our supporters especially in the media!